Everything you need to know about Alpina's incredible version of the Toyota Supra GR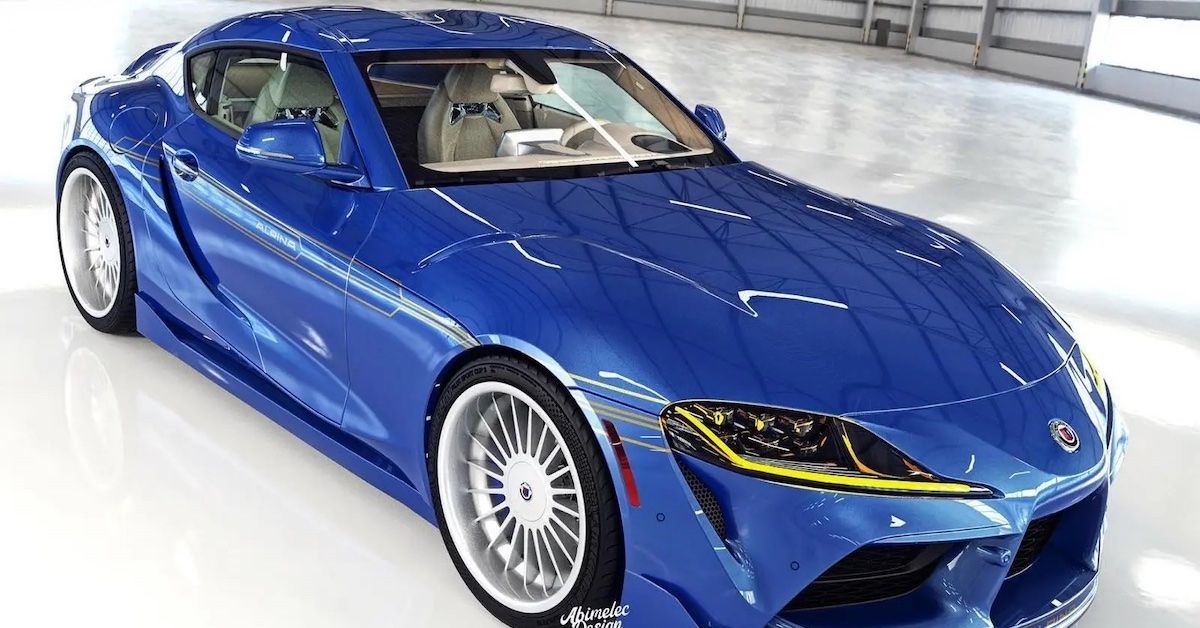 The current Toyota Supra is considered by many to have way too many BMW components to even be a Toyota. The sports car is dominated by BMW components in terms of engine, transmission and the majority of its interior features. In light of this, designer Abimelec imagined what the Supra would look like if modified by Alpina for Hagerty. Yes, the exact Alpina that is responsible for improving and tuning BMW models.
Almost no introduction is needed for Alpina. It has been improving BMW cars for nearly 60 years. Currently, BMW is working on a deal that will incorporate Alpina, so the future will likely be a bit different. Obviously, there's very little chance that Alpina is working on the Toyota Supra, but Abimelec Arellano (also known as abimelecdesign on Instagram) had the same hypothetical question. As absurd as it sounds, his work is quite impressive, especially considering that Alpina never provided a version for the current Z4.
The idea "came about randomly," the designer claims, "and although it initially seemed like an overused joke, the more I thought about it, the more I liked it." The classic Alpina wheels are the perfect complement to the new body kit, which highlights all the sporty characteristics of the Supra. Not to mention that the traditional Alpina livery of blue with gold stripes fits in perfectly. A cool body kit like this will have a significant power boost, but that's another story.
Related: 2022 Toyota GR Supra 3.0 Premium Review: One Step Close to Best
The Toyota Supra GR's powertrain is similar to that of the BMW Z4
Only the exterior styling distinguishes the Supra from the BMW Z4 as they share the same chassis, engine, gearbox, suspension, rear differential and electronics. Two engines are available for the 2022 model: a 2.0-liter turbocharged four-cylinder with 255 horsepower and 295 pound-feet of torque, and a 3.0-liter inline-six with a combined output of 382 horsepower and 367 lb-ft. of torque. The 3.0-liter engine would be the go-to if Alpina updated the Supra, and it could easily boost overall output to over 500 horsepower.
Although we are aware that Alpina has no chance to produce this Supra, perhaps the tuner will take inspiration from this and develop a similar concept for the BMW Z4. It's about time the tuner paid some kind of attention to the Z4.
A glimpse of what a rebranded Alpina Toyota Supra GR could be
Why would ALPINA ever produce its own Toyota alternative? It could be that Toyota is actually a BMW. So it would never happen and, whatever you hear, it is an absolute impossibility. Someone, however, decided to create an amazingly accurate 3D model of what it might look like if ALPINA produced their own version of the Toyota Supra.
The reason for this ironic 3D rendering is the fact that the new Supra is essentially a BMW Z4 coupe. The Supra and Z4 share the same chassis, engine, gearbox, suspension, rear differential and electronics. As much as the folks at BMW or Toyota PR might try to work their way out of this fact, when pressed, the two cars are two very slightly different versions of the same car. But why then would ALPINA make a Supra variant and not a Z4 variant? Well, it wouldn't. However, if ALPINA were to do this for a fictional cause, it might look like this rendering.
Honestly to say, this 3D rendering is quite impressive. It makes no sense, because it takes a very classic German aesthetic and combines it with a very Japanese style (the Supra might be all BMW under the skin, but it's pure Supra on the outside). The iconic ALPINA wheels are there, the body kit looks great, its ride height is perfect and the classic ALPINA blue with gold livery looks great on the Supra.
Related: The best features of the 2022 Toyota GR Supra
Abimelec Arellano Tweaks On The Alpina-Supra Design Revives Stunning Beauty
The designer changed the look of the Supra by adding an extended front splitter and new side skirts in body color. The rear of the sports car also has a new carbon fiber bumper and diffuser, giving it a slightly more intimidating appearance while maintaining that characteristic Alpina balance. A number of new gold accents and pinstripes that run across the front splitter and down the sides have also been added to the Supra. Additionally, the vehicle has amber DRLs and headlights and is fitted with Alpina tight-spoke wheels only.
There are a few different exterior and interior color schemes that have been considered. The most eye-catching contrasts a blue exterior with a white interior, but there are also purple exteriors and purple interiors, dark red exteriors and dark red interiors, green exteriors and tan leather, and black exteriors and interiors. dark red. Naturally, Alpina will not directly offer a tuning kit for the Toyota Supra. It doesn't even offer a modified version of the BMW Z4, which the Supra shares a foundation with. Unfortunately, Alpina only works on BMWs, not Toyotas, and not even all BMWs, which is a shame because we think this Alpina-tuned Supra is fantastic.