Horrific 1300 HP Comet Mercury Crash Was The Result Of A Misfire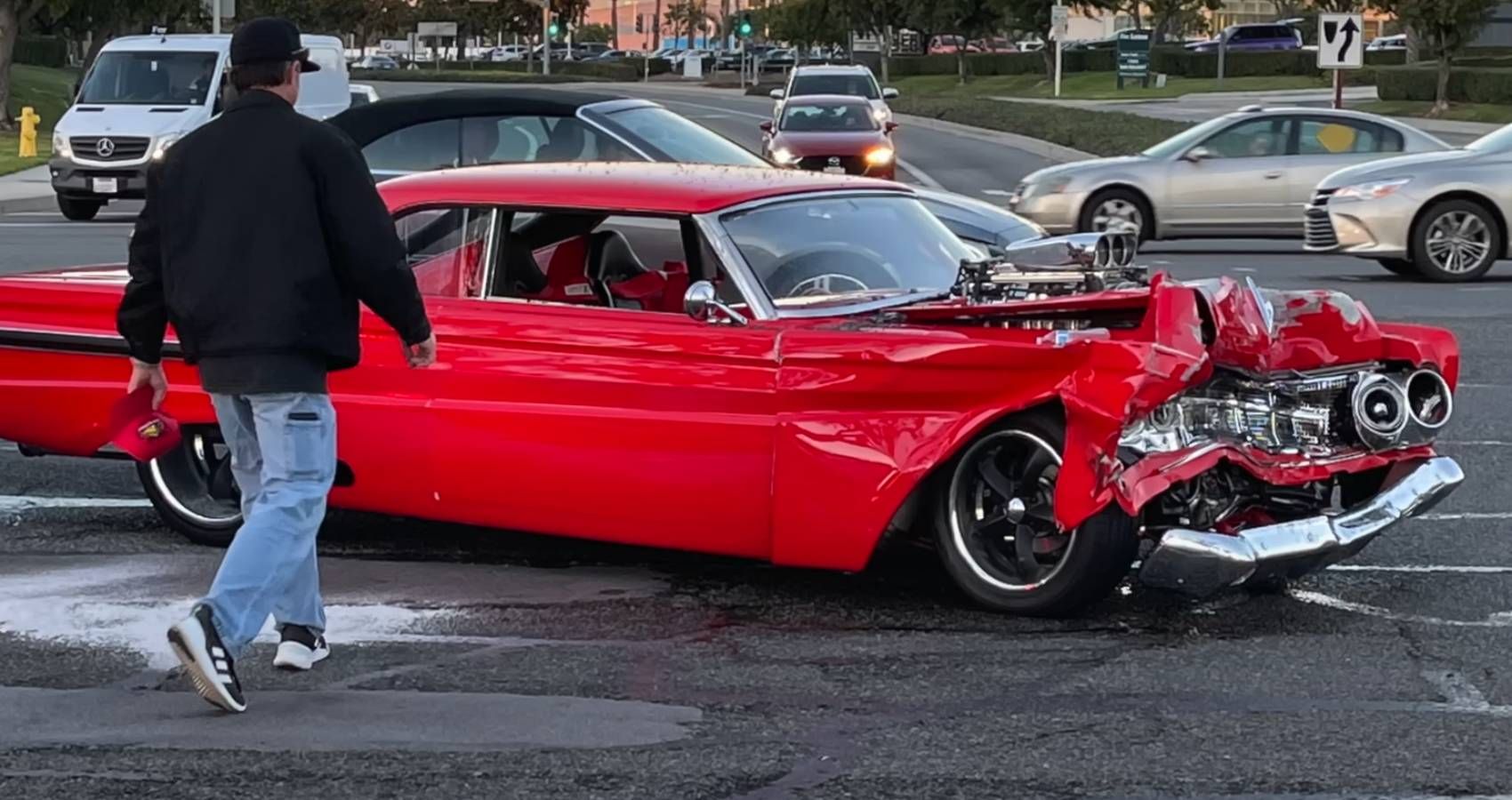 Shawn Davis is known for showcasing some of the most iconic and tastefully modified cars on his AutotopiaLA YouTube channel. From American classic cars to imports, this list includes everything. However, the latest video shared by AutotopiaLA is slightly different from their usual modus operandi. The video in question shows a horrific crash of a 1964 1300 horsepower Mercury Comet.
In December 2021, Shawn Davis was involved in a horrific accident in which he was in the passenger seat of a modified 1964 Mercury Comet. This video, then, as Mr Davis explains, is his way of reaching out to its audience with an explanation of the details of this accident, why it happened and what were the lessons.
The video begins with him explaining that the footage of the accident and its aftermath could be potentially graphic for some. However, he further clarifies that the reason for doing this is not to sensationalize but to educate.
A tastefully built Mercury Comet with a 1300 HP core
On December 17, 2021, Shawn Davis, along with the rest of his AutotopiaLA crew, went to see a beautifully modified 1964 Mercury Comet owned by one Russ Stover. This particular specimen of the comet is truly a sight to behold. Dressed in shiny red paint, this American classic hides under its hood a Chevrolet 632 big block Merlin engine that develops no less than 1300 horsepower.
During the first interview with the owner, we learn that the owner built this car himself in his garage. He jokes that this process cost him 23 years, $208,000 and two wives.
This particular Mercury Comet was built for drag racing. However, Russ Stover mentions that due to his time and energy on this project, he chooses not to engage in quarter mile races as it would be a lot of emotional pain if the comet were to end up in an accident.
At this point, Mr. Stover mentions that despite all the modifications he has made to his Comet, he still has a few items on his wish list that he wants to add to his car. At the top of this list are bigger and better brakes, as the vehicle still uses 17-year-old brake technology. Shawn Davis says that in hindsight this is something that should have seemed like a potential danger to him, but at the time it wasn't.
Related: Serious Muscle: This 1971 Dodge Charger R/T Produces 610 Horsepower
The day started like any other until it was gone
Shortly after this first interview, Shawn Davis, with owner Russ Stover at the wheel, decides to take a short ride in a Comet. Since it was only an occasional ride, they both opted to only put on their lap belts and not the harness, which in hindsight would have been a much safer option.
Arriving at the first red light, Mr. Davis notices that Mr. Stover had to press the accelerator several times to take it off, as the engine was idling at approximately 2,200 rpm. One problem he mentions is fairly typical of older cars. Shortly after driving further down the road, Shawn Davis notes to his companion that he can smell the brakes, meaning the burning smell of the brakes overheating. Mr. Stover replies that it is because he had to brake because of the throttle lock problem to keep the car from going too fast.
At this point in the video, Shawn Davis mentions that all of the things above should have come across as warning signs. However, he has been in similar situations before, and since nothing happened in those situations, he decides not to care too much.
But as we can see in the video, this is when the crash takes place. The pair take off from a red light with a bit of speed, around 45 to 50 miles per hour. Seeing a red light ahead of him, Russ Stover applies the brake, but he realizes they have failed. So he tries to swerve to avoid hitting the stopped cars but fails and hits a van directly behind.
Related: 10 Of The Best Classic American Muscle Cars Regular People Can Afford
Crash of a 1300 HP Mercury comet: the aftermath
Although the accident was serious and caused serious personal injury and significant damage to all vehicles involved, the good news is that all parties involved are now fully recovered. Shawn Davis and Russ Stover are fully healthy, with the former having returned to producing quality content on YouTube.
But what about the Comet? Is it dead? Mr. Davis says that although Mr. Stover has put the project on hold, he wants to resume it soon. And with any luck, we'll soon see this 1964 1300 HP Mercury Comet restored to its former glory be featured on AutotopiaLA's channel.
The video ends with Mr. Davis sharing some words of wisdom: his lessons from this accident. First, he insists on always putting on the safety harnesses and installing them in your classics if you haven't already installed them. He also advises having the brakes of these cars inspected regularly. Additionally, his most crucial suggestion is to install a manual handbrake in a custom-built car, even though it might ruin the look of your car's center console. Who knows, maybe if this comet had one, things would have ended differently.