Jennifer Birmingham debuts at the Phoenix Saloon | Groovin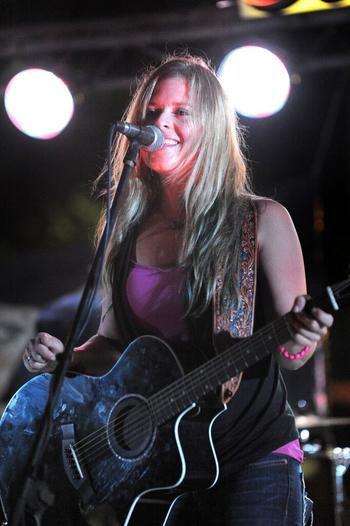 The Phoenix Saloon always seems to find the cool new bands that are just starting out on the music scene. Credit goes to owner Ross Fortune, a veteran music composer for years, including a lengthy stint with Mojo Magazine, England's response to our Rolling Stone magazine. If you've ever read a copy of Mojo, you already know he's light years ahead of Rolling Stone, especially in his musical cover. Ross gave a home to bands like Uncle Lucius, Shinyribs and The Nightowls long before anyone in our area knew who they were. On Saturday, Jennifer Birmingham will make her group debut at the Phoenix Saloon. She grew up around music, her mother was an opera singer and music teacher, and her father is a high school conductor. She moved to New Braunfels and found her musical home. "That's where I fell in love with music," she says. Alan Voight gave him the chance to sing and write songs. He gave her a guitar and showed her the chords to Bob Dylan's "She Belongs to Me" and said if she learned it in a week, she could keep the guitar. A few days later, she performed and sang this song along with the one she had written. From that point on, she played every singer / songwriter night she could and was involved in many late night song swaps. Jennifer has also written songs with legendary Texan songwriter Clay Blaker. He has written hits for artists such as George Strait, Barbara Streisand and Tim McGraw, to name a few. "He was a great mentor, he believed in my writing. Clay assured me that I was as good and that I belonged to everyone. Jennifer left New Braunfels after receiving a music scholarship. at Victoria College. While in Victoria she started writing with Jarrod Birmingham, and they eventually married. Jarrod has become a respected figure in the Texan music scene, but Jennifer is doing very well too. Phoenix Saloon Saturday at 9pm and see for yourself.
Several great shows at the Freiheit Country Store
Freiheit Country Store has put on some really good shows lately, and their upcoming schedule is full of great shows. A quick glance at their website shows Rich O'Toole, Sunny Sweeney, Restless Heart, Stoney LaRue, John Conlee, David Ball, Micky & the Motorcars, and Johnny Rodriguez, to name a few. Tonight you can enjoy Two Kings, a cool tribute band playing the music of Elvis and George Strait. From next Wednesday, February 1, the Zack Walther Band will present their Walther shows on Wednesday in Freiheit. Zack started these weekly events at Gruene Hall several years ago before moving them to Villa de Gruene. Now their new home is Freiheit Country Store, so go ahead and help Zack keep the tradition alive. Music starts around 6.30 p.m. every Wednesday evening.
Hayes Carll will play Gruene Hall
Hayes Carll's latest album "Lovers & Leavers" is up for Album of the Year, nominated for Musician of the Year and Song of the Year, all at the upcoming Austin Music Awards. Her album ended up on several Album of the Year reviews for 2016 and her shows are sold out all over America. He was also selected as the first artist to perform on the Austin City Limits TV show last week. Fans across America have grown to love Carll's witty and captivating live shows. That's what you'll find this Saturday night at Gruene Hall as Carll takes the stage with Travis Linville to open the show. Tickets are on sale now for $ 25 at Gruenehall.com. This show will be sold out, so if you're planning on going, get those tickets now.
No Fuss & Feathers kicks off the New Year for New Braunfels House concerts
Elaine Hayden kicks off her New Braunfels House concerts for the New Year and her first show is this Sunday. The band that performs is called No Fuss & Feathers, they started out as occasional songwriters performing at open mic parties and round sessions but quickly evolved into a full band. Sometimes referred to as a modern folk quartet, the group is actually a blend of the styles of all three songwriters. Each of these nationally touring artists has featured atop Folk and Americana radios and appeared on stage at some of the nation's most respected festivals. Together, they form a winning combination, always offering their audience an unforgettable spectacle. The group is made up of Carolann Solebello, Karyn Oliver, Catherine Miles and Jay Mafale. Everyone in the band is theatrically trained, so what happens between songs is just as important as the writing. They share their friendship and camaraderie with the audience, making the audience a part of the performance. For more information on tickets and times, contact Elaine Hayden at 210-617-3765 or NBHouseconcerts on Facebook.