Taos Basecamp Concept Shows Us VW's Smallest SUV Can Be A True Adventure Vehicle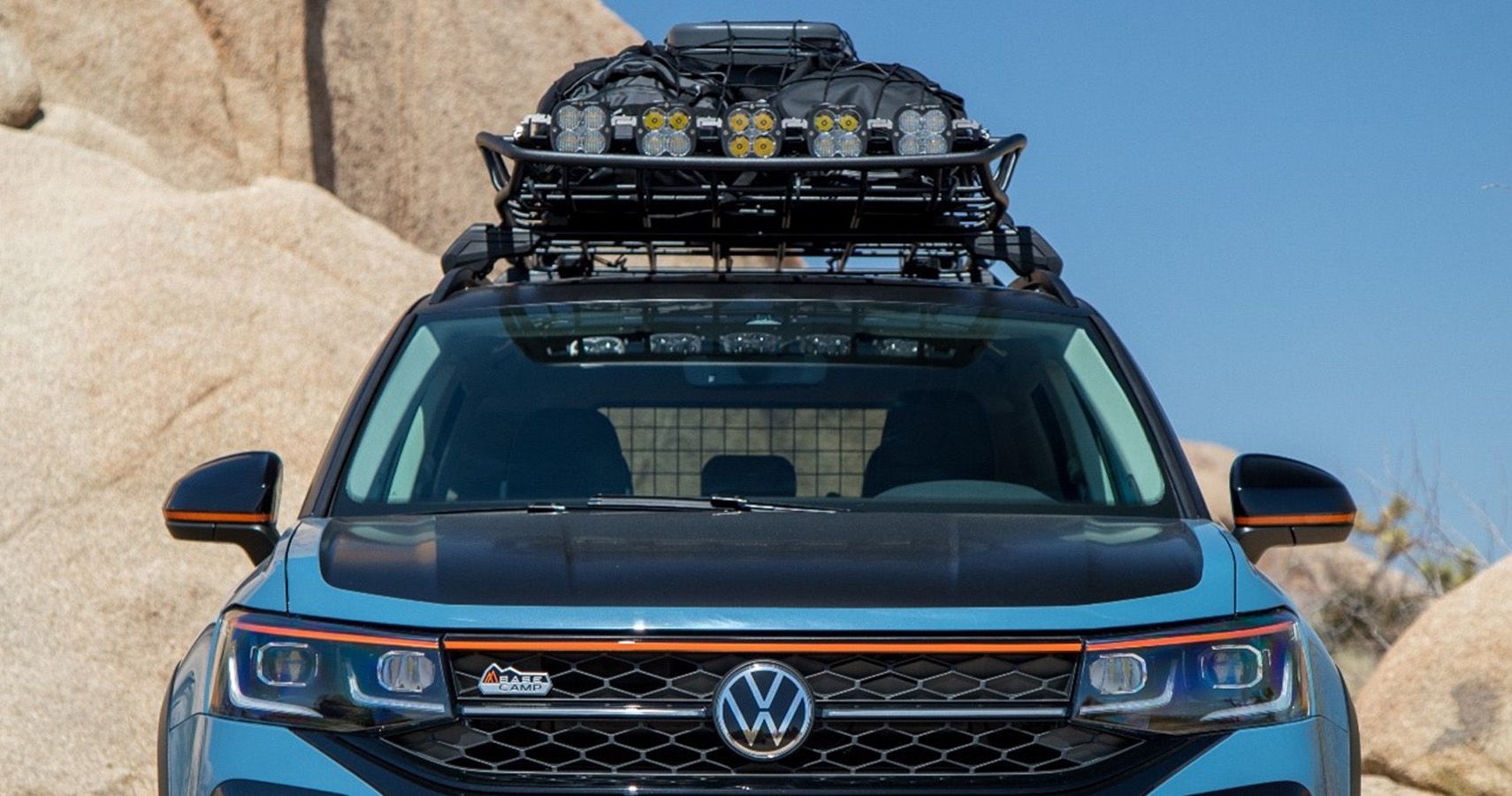 There is a certain obsession at Volkswagen where it seems that with every model they bring to the market, they want to make it a perfect ally for camping. They've done it before with the Transporter, the Atlas (Teramont) and even the Caddy, and now it's the turn of one of their most popular crossovers: the Taos.
"Many venture into the great outdoors and need vehicles with the innovations to adapt to their active lifestyles," said Robert Gal, senior director of performance and accessories at Volkswagen of America.
So comes the Taos Basecamp Concept, courtesy of the VW Design division who have created an SUV styling scheme, supported by a series of accessories that will make your camper life a bit easier.
So far, acceptance of the standard Taos has been good, but the small push from that all-terrain touch of customization could boost sales of the crossover in the various countries where it is offered.
It may be a side effect of the pandemic to be locked up for so long, but off-road vehicles have grown in popularity dramatically in a short period of time and the newest Volkswagen Taos Basecamp concept is proof of that.
Now Volkswagen's smallest crossover has been turned into an adventurer's vehicle with decent overlander credit.
Related: This Is Why Volkswagen Taos 2022 Could Be America's Best Small SUV
Slightly more robust and capable
In 2019, Volkswagen unveiled the Atlas Basecamp concept (based on the Teramont) at the New York Auto Show, a convertible-looking prototype for its largest SUV in America. After the successful reception of this concept and the Basecamp accessory program for the three-row SUV, the Taos Basecamp Concept is now presented and inspired by this same idea.
The Taos Basecamp concept is ready for the occasional adventure
The aesthetic makeover that the German crossover offers is extremely appealing and a lot of people will surely want some of these accessories. Volkswagen designers based in Oxnard, Calif., Were tasked with giving an adventurous and rugged look to VW's most recent launch, of course we refer to the Taos.
Now, with this off-road version following in the footsteps of the Volkswagen Atlas Basecamp prototype, that doesn't mean that Volkswagen plans to compete directly with the Jeep Compass Trailhawk or the Ford Bronco Sport with this new version of the Taos, but that they are exploring. their adventure capabilities.
Related: VW Atlas Cross Sport R Is The Trophy Truck To Take On The Baja 1000
The Taos Basecamp shares the all-terrain accessory set created for the Atlas Basecamp concept
Volkswagen made sure the Taos Basecamp Concept had everything it needed for out-of-town travel and to be able to respond to difficult field conditions. Its appearance is the most representative here, showing much more robustness compared to the standard version.
Are you ready for the great outdoors? Because the Taos base camp is
Visual changes include wheel arches, off-road tires and larger wheels, as well as a new color scheme, combining unpainted plastic parts – with silver contrasts and a Waimea Blue paint body with Glossy black trim and a dark matte finish for the roof and hood. Subtle decorations in orange are also part of the aesthetic package.
Basecamp's design identity
What Volkswagen offers with Taos Basecamp Concept is not just a cosmetic kit, but a set of relatively deep modifications to adapt the vehicle to difficult roads.
Among the most glaring features we can find:
Textured fender wideners
Silver steps and skid plates
Special tires Falken Wildpeak A / T 225 / 65R17 for off-road
Raised suspension with H&R springs
Thule Canyon XT basket with integrated Baja Designs LED lighting
Cargo divider provided by Polytec Group
The soon-to-be-released Basecamp Style Pack, designed in collaboration with Air Design, also includes Basecamp emblems in case you forget that this isn't your regular Taos.
Related: These Are The Best Small Crossovers You Can Buy Right Now
Taos Basecamp Concept Could Get 1.5 TSI, DSG7 Gearbox, 4Motion System
As a good prototype, this Taos Basecamp Concept will not become a reality as it is, but it serves as the basis for launching a full range of off-road accessories in the future for all customers who want to enjoy even more of their Taos. Although the German firm has announced that even this Basecamp version could be seen soon.
For this off-road prototype of the Taos, Volkswagen chose a Taos equipped with its 4Motion four-wheel drive system, an optional element in other trim levels of the Taos. What does not change is its engine, as all versions of the Taos sold in North America rely on a 1.5 TSI engine capable of generating 160 horsepower and 184 lb-ft of torque.
Volkswagen would equip the 4Motion Taos Basecamp version with a seven-speed DSG gearbox since the front-wheel-drive Taos comes with an eight-speed Tiptronic transmission.
At the moment, we cannot confirm that this is really the preview of a new production version of the Volkswagen Taos, but it certainly uses a very similar aesthetic scheme and even the same name as the all-variant. Volkswagen Atlas land.
Perhaps the Taos Basecamp Concept will serve as a starting point to create more adventure vehicles and accessories for other Volkswagen models.
Next: Can The Volkswagen ID.4 GTX Destroy The Toyota bZ4X?
Dodge Challenger Six-Wheeler with two Hellcat engines rendered
About the Author