VW's Bentley expands its 3D component printing capability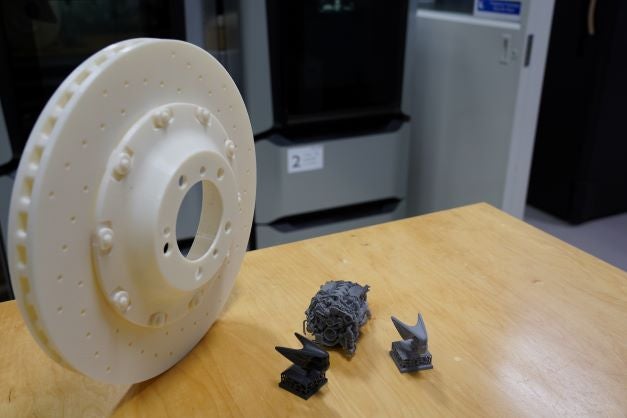 Volkswagen Group's Bentley Motors has announced a £3 million investment to double its additive manufacturing (AM) capacity at its factory in Crewe, England, where all its models are assembled.
The existing AM facility has already been applied to a wide range of uses, producing over 15,000 components in 2021 alone.
"This expansion will also allow [us] using advanced technology to create 3D-printed vehicle components and even greater customization of customer cars," the automaker said in a statement.
"Investment of this nature in such an innovative process is another example of Bentley's vision to create a long-term sustainable business model and stay at the forefront of technological advancement."
The AM system converts 3D CAD models into physical components and is, the automaker added, "recognized as one of the fastest growing technologies in the world."
The company has already selected a wide variety of items to print, including work aid tools for manufacturing personnel, such as lightweight sanding blocks for the carpentry shop that makes interior trim parts. artisanal.
Historically accurate tooling equipment needed to manufacture parts for the Bentley Blower Continuation model has been created, along with face shields provided to the healthcare sector during the COVID-19 pandemic.
AM has been used to create physical components for several Bentley prototypes, including full-scale powertrain models and wind tunnel models. The advanced techniques were also used to produce parts for the record-breaking Bentley models that were raced in the demanding Pikes Peak Challenge in America.
"The latest methods help speed up product development, allowing Bentley to produce a wealth of parts without the need to outsource," the company added. "This is part of the company's groundbreaking Beyond100 strategy, which seeks leadership in sustainable mobility by reinventing every aspect of the business."
The automaker said 3D printing cuts the cost of parts in half, and by operating around the clock, the facility is capable of producing thousands of components using more than 25 different materials.
Workers across the company are now being offered AM training to understand how they could benefit from using the process in their jobs.
Peter Bosch, Bentley Manufacturing Director, said:[Our] approach to additive manufacturing is industry leading and installation is quickly becoming the cornerstone of our Dream Factory ambitions. One of the main advantages is that it is focused on efficiency, reducing the cost and complexity of a myriad of jobs.
"This latest investment is also having a significant impact on our colleagues across the company, helping to create advanced assisted tools to drive continuous improvement throughout manufacturing processes. As we look to the future, there really is huge potential for this advanced technology to progress, including having a greater ability to customize parts for our customers and further improving the individualization program offered on each car.